If you are in the queue of the users who are trying to migrate their Outlook data into Office 365 but unable to find a comfortable and simplified method, no need to worry anymore. We are going to introduce the solution to this issue in this tutorial that will prove to be helpful to needy users. Before moving directly to the solution, let us know a little bit about the two applications.
 Outlook is a desktop-based email client provided by Microsoft to its users for sending and receiving messages and to manage contacts, calendar entries, and other information. PST file format is utilized by Outlook to store the database.
 Office 365 is a cloud-based application. It is same as Microsoft Outlook or you can say it is accessing Outlook on the web. It can be easily accessible on all devices. The only thing you need is a login id and password with a good internet connectivity.
What arises a need to migrate Outlook to Office 365?
Office 365 is an online application that can be easily accessed anywhere through a proper internet connectivity.

Office 365 is a secure and easy to handle application.

Office 365 can be easily opened without any supportive application.
How to convert PST file to Office 365?
Conversion of Outlook file to Office 365 becomes easy, swift and simplified once you download Softaken PST to Office 365 Migration tool. Follow the step by step working to understand the complete migration process –
Step 1. Download and install the software – The first step is to download and install the application successfully on your Windows system.
Step 2. Load PST file – Go to Browse button and select PST file whom you want to import to Office 365 account. You can freely load any size PST file.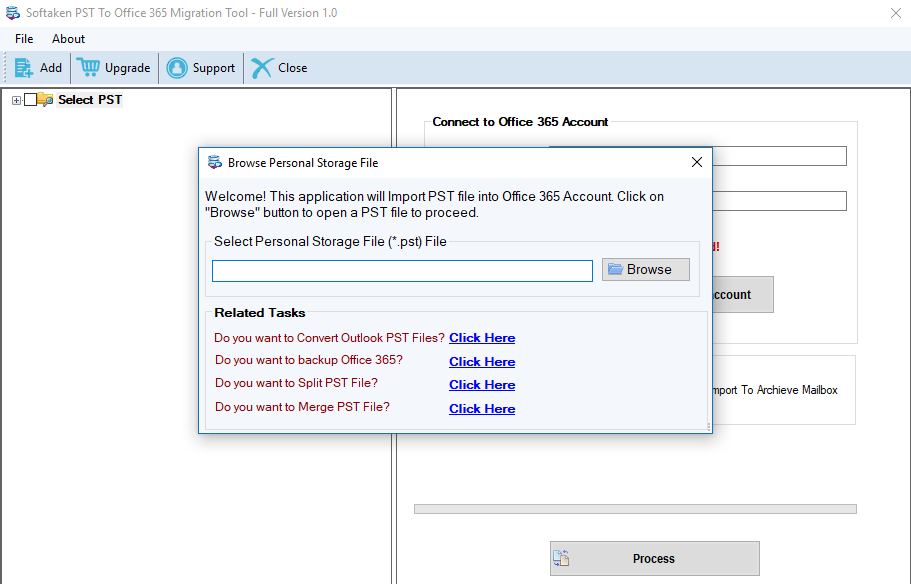 Step 3. Provide Office 365 credentials – Provide username and password of your Office 365 account and click on Connect to my Office 365 account.
You can select the desired folders of PST file if you have some selected folders to export into Office 365 profile.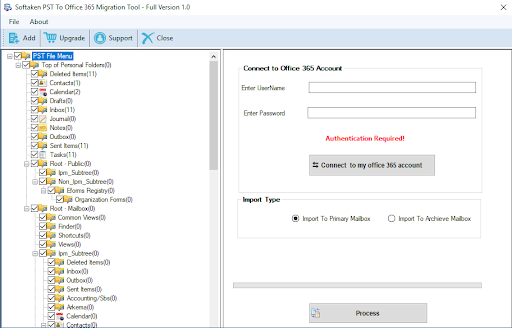 Step 4. Choose Import Type – There are two options provided by the application to import the PST file.
Import to Primary Mailbox – This will import your PST folders to the matched folders of Office 365 like inbox in Inbox, draft to draft etc.
Import to Archive Mailbox – This will create a new folder to Office 365 account to save PST folders in the newly created folders.
Step 5. Click Process Now – Finally, click on Process Now button. This will start the import process and takes a few minutes to accomplish the task.