Most of the users find the solution of the question how to convert Thunderbird emails to MS Outlook. They want to move emails of Thunderbird to Outlook client but don't know the simplified and exact procedure to complete the task.
Here, we are providing you the complete information on how to export Thunderbird files to Outlook. Before this, let us discuss the terminologies.
Thunderbird is a popular email client which is an open-source emailing program which enables you to manage emails. Generally, the email client stores data into MBOX format but other file formats are also easily imported to this client.
Outlook is one of the most commonly used email clients that has entire storage of your emails, contacts, notes, journals, calendars etc. PST is the generally used file extension to store the entire data. It is a part of MS Office Suite.
Reasons to move from Thunderbird to MS Outlook
There are multiple reasons to migrate Thunderbird data to Outlook –
Outlook delivers better security features

With Outlook, you can get several options for easy organization of the mailbox

Outlook has swift connectivity with Exchange Server

With Outlook, you can get the facility to work in offline mode also, where you lose connectivity with Exchange Server.
How to export Thunderbird files to Outlook PST?
Follow the step by step tutorial to effortlessly move Thunderbird emails into Outlook PST –
Step 1. Download and install the application - Freshly download the software on your Windows machine. The opening interface of the software is displayed in the image below.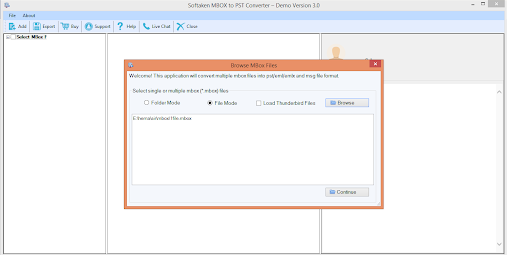 Step 2. Add MBOX file – Choose folder mode or file mode. You can directly load Thunderbird files by checking 'load thunderbird files.' Click on the Browse button and choose MBOX files from your hard drive.
Step 3. Live Preview option – Once all the required MBOX files are loaded, you can get a clean preview of the loaded files and can ensure the number of files and their exactness before going for migration.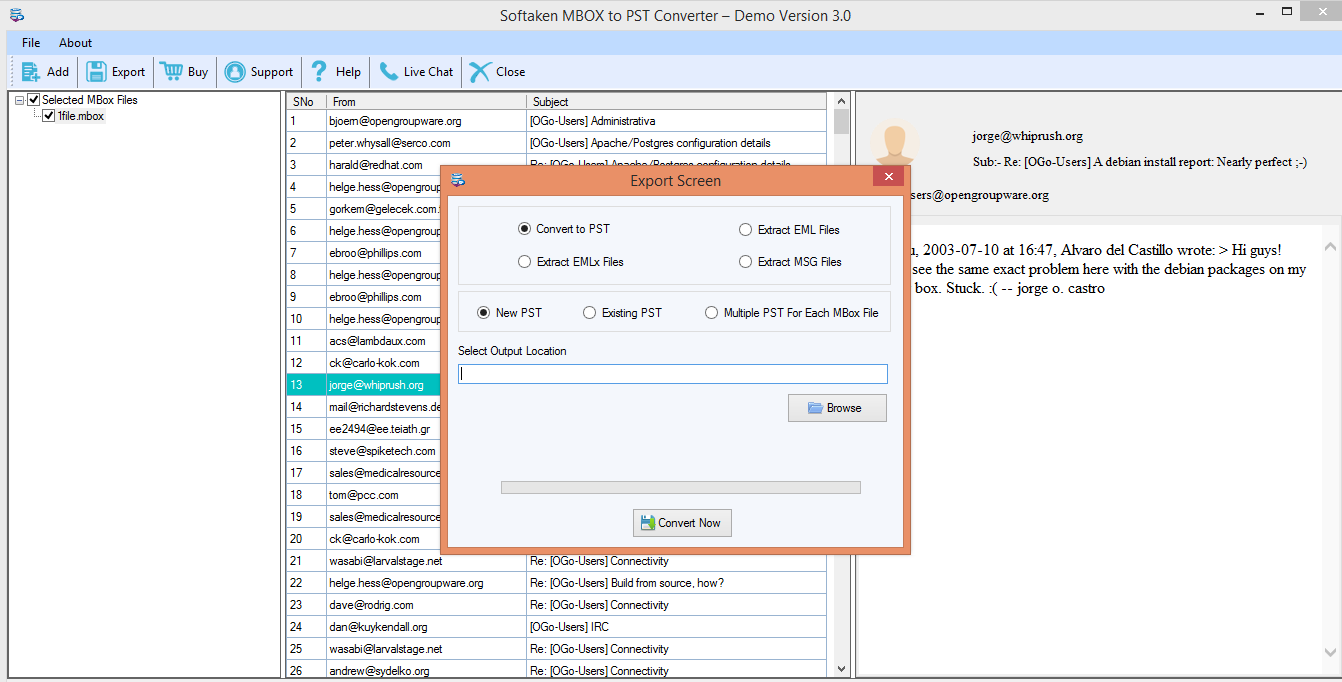 Step 4. Choice of Export options – MBOX to PST Converter software provides several export options. To move Thunderbird emails to Outlook, choose Convert to PST.
There are other options available. You need to choose one of them either you want to create a new PST file to save the converted items or to an existing PST file. Moreover, you can create multiple PST for each MBOX file.
Step 5. Selection of Output location – Click on the Browse option, select a path where you want to save the converted files. This could be any location of your choice.
Step 6. Hit Convert Now – Finally, click on the Convert Now button. You need to wait for a few minutes to get the resultant files.
How to import PST to MS Outlook?
Open MS Outlook application

Go to File > Open & Export > Import/Export

Select

Import from another program or file

, click Next

Select Outlook data file (.pst), then click Next

Browse PST file, click Next

Choose the account where you want to place the PST file

Click Finish